Dry Spell Water Defender Bag (Phone): White/Clear
---
Sale price
$ 10.40
Regular price
$ 13.00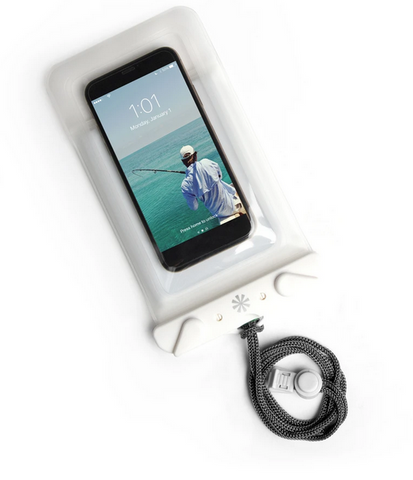 For when H2O is a no-no.
New & improved: Now even floatier!


This handy water defender bag is the perfect phone protection for attending sports outings, relaxing at the pool, or playing at the beach. Sturdy locks clamp your device safely inside & shield it from the elements. The clear window allows you to keep on texting, reading, or taking photos all the while.
You may find this hard to believe, but the Dry Spell also floats. Yes, that's right. Floats. On. The. Top. Of. The. Water. No fear of your coveted phone ending up at the bottom of the lake.
This new & improved model is even floatier than before! Super dense, buoyant foam integrated into the Dry Spell keeps even heavier phones from sinking to a watery burial at sea. This new style went snorkeling in Mexico with our team recently & produced some very cool video (take a look below!) A new adjustable strap makes for added comfort & versatility.
While the Dry Spell is not meant for scuba diving or shark nuzzling, you can rest assured that this bag will keep the elements away from your phone as you walk the beach or fish for The Big One. It's really not meant for prolonged submersion in water (even though we kept one in a fish bowl for over a week), but it's perfect for sharing protected sunset selfies & texting proud pics of your next big catch.
These versatile bags hold so many devices! Fits every iPhone ever made—from the original iPhone to the iPhone XS Max & other phones with displays up to 6.5".
Easy care: Simply wipe with a damp cloth.
Materials: TPU Plastic + ABS Plastic + EVA Foam + PP Plastic.
Related Products
---