Dynamic Duo Woven USB Cable: Black Night/Cloud
---
Sale price
$ 19.19
Regular price
$ 23.99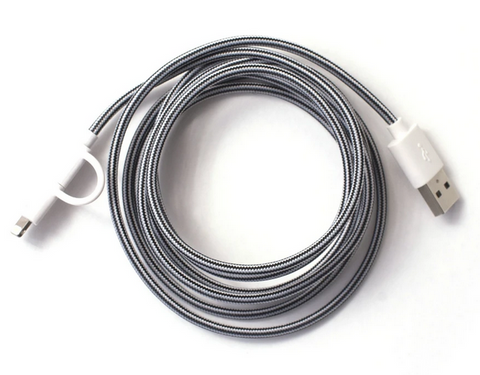 A USB cord for a house divided.
Got Apple gadgets & Android devices in your household? We feel your pain. This high-quality Apple-certified USB to Lightning & Micro-USB data cable creates a one-charge hotspot for both.
The woven fabric cable is just plain cool. Why settle for a boring white cord that you know is just going to crack in that one spot, which will likely drive you (& us) insane?
Great for families, gatherings & office use. Just use the connector that's right for the gadget at hand. Charge your iPhone, the hub's Android device, then the kids' iPads. It works for everyone's stuff!
Cord allows both charging (from device to wall charger) & data connection (from device to computer). At the super-long length of 6', this cable will even reach hard-to-access outlets behind your bed & under that pesky hotel side table.
Tech specs: 6' long MFi & RoHS-certified USB cable with 8-pin Lightning & Micro-USB connections.
Materials: Nylon + PVC.
Related Products
---