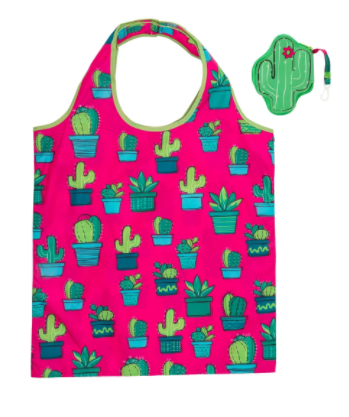 Shop with the earth in mind and style on your arm. Our reusable shopping bags are covered in fun, graphic prints. They also come with their own teeny bags for easy, portable storage. Keep one with you at all times. 
CONVENIENT: Always have your bag handy by putting it into it's own teeny tiny bag that easily fits into your carryall bag, glovebox, and more.
EARTH FRIENDLY: Stop using one-use plastic sacks. This reusable bag helps you make that commitment.
GROCERY RUN: At 14.75" W x 24" L, this bag is perfect for a short trip to grocery, and also works when shopping for gifts and clothes.
WASHABLE: If your bag gets dirty, just toss it into the wash with your other laundry.