Triple Header Maxi 6ft Woven USB Cable (MiFi): Confetti Colors
---
Sale price
$ 25.59
Regular price
$ 31.99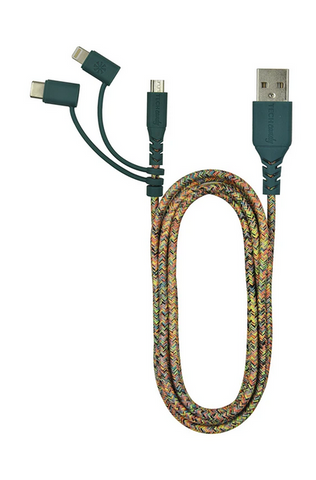 Got things? This mega long cord charges all the things.
Got Apple gadgets and Android devices? This 3-tipped cable creates a charging hotspot for them all. Perfect for families, gatherings & offices. Just use the connector that's right for the gadget at hand. Charge your iPad, iPhone (did you notice this cord is MFi certified by Apple?), your uncle's old Android device. Then your BFF's shiny new Android. Throw in your neighbor's eReader. Back to the iPad. See? All the things!
Cord allows both charging (from device to wall charger) & data connection (from device to computer). At the super-long length of 6', this cable will even reach hard-to-access outlets behind your bed & under that pesky hotel side table.
The woven premium cotton fabric cable feels really great.
"OMG! Three connectors? How do I use them all?" You got this. Simply choose the one that fits your gadget. Use the Micro-USB alone. For Lightning or USB-C use, plug one of these connectors (not both at the same time—not possible!) into the Micro-USB tip & be sure you can see all the Tech Candy logos at once.
Tech specs: 6' long MFi & RoHS-certified USB to Lightning, Micro-USB & USB-C connections.
Materials: TPE + Premium Cotton.
Related Products
---